Merlin Enhancement Board
For Dragon's Lair and Space Ace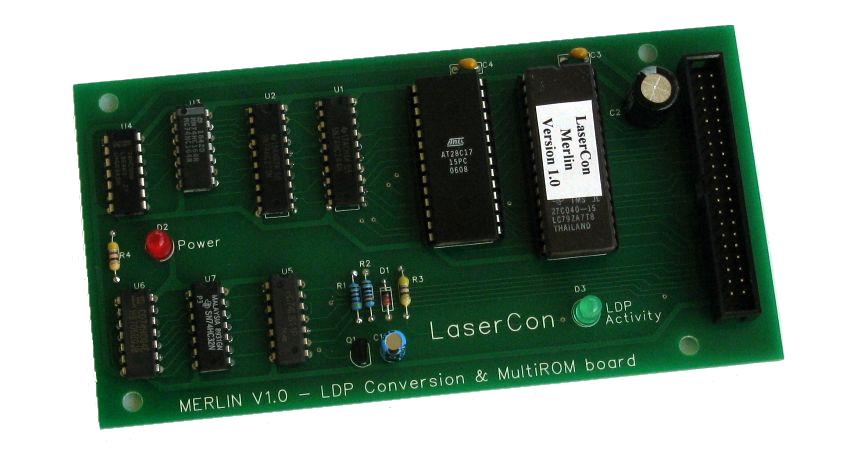 The LaserCon "Merlin" Board is two enhancement boards in one.
It is a laserdisc player replacement board which allows you to use a newer player
and it is a ROM replacement board providing 2 ways to play Dragons Lair and 2 ways to play Space Ace.
Laserdisc Player replacement board: The original Laserdisc players used in Dragon's Lair and Space Ace have worn out and there are no direct substitute players. Merlin converts the original LD-V1000 or PR-7820 player commands to those needed by Pioneer's newer industrial grade players (see list below). The upgraded laserdisc player provides reliability and a much better game experience. The pauses between game scenes and death sequences are greatly reduced and the game play is more fluid.
ROM replacement board: Merlin is a replacement for the ROM board used in Dragon's Lair and Space Ace. However, unlike the original, the Merlin board holds 4 ROM sets giving you two ways to play Dragon's Lair and two ways to play Space Ace (see list below). You can change the gameplay firmware directly from the control panel at start-up, or fix it to your one favorite. Play either Space Ace or Dragon's Lair in the same machine by simply changing the disc!
Set your machine for 1 coin per play!
Kit includes: LaserCon - "Merlin" Enhancement board, Player interface cable for modern players, and instructions.
Sorry, laserdiscs and laserdisc players are not included.
Merlin is in stock - Price: $150 plus $5 S&H within the U.S.A.
For International Orders, Multiple Orders, or Payment via Money Order, email me first.

Do you have a question? Would you like some technical help?
Send email to shaun@wood1st.com

Please note that "Merlin" is only for use with the 1983-'84 versions of Dragon's Lair and Space Ace built by Cinematronics/Magicom.
Preferred Replacement Players: Pioneer Models: LD-V8000, LD-V4400, LD-V4300D, LD-V4200
Acceptable Replacement Players: Pioneer Models: LD-V2200, CLD-V2600, CLD-V2400
Included ROM Sets: Dragon's Lair - Version F2 (this was the final factory version)
Dragon's Lair Enhancement - Version 2.1 (an improved version of the gameplay created by fans of the game)
Space Ace - Version A3 (the final factory version)
Space Ace Enhancement - Verion 1.0 (an improved version of the gameplay created by fans of the game)
Downloads: Merlin Installation Instuctions Ver-2.0(pdf)
Merlin Installation Instuctions Ver-1.0(pdf)
Dip Switch Settings for use with Merlin Ver-2.0(pdf)
Dip Switch Settings for use with Merlin Ver-1.0(pdf)