American Laser Games MultiROM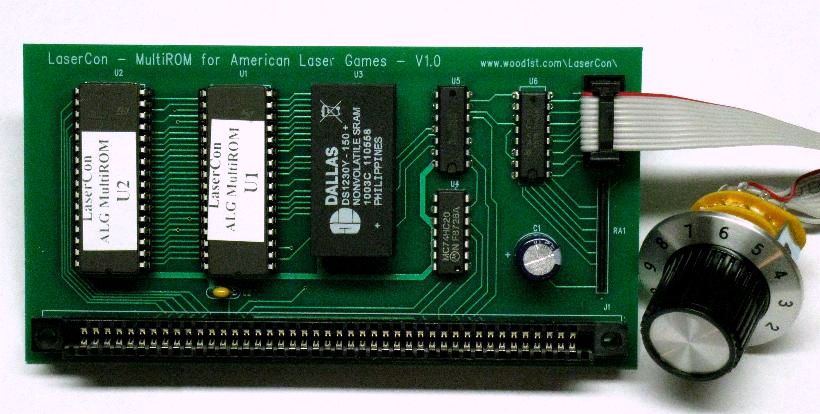 The LaserCon ALG MultiROM is a direct replacement for the original RAM/ROM board used in "American Laser Games" shooter type arcade machines.
With the MultiROM card, you can easily change the gameplay firmware to any of these eight games...
Mad Dog McCree
Mad Dog 2 – The Lost Gold
Who Shot Johnny Rock
Gallagher's Gallery
Space Pirates
Crime Patrol
Crime Patrol 2 – Drug Wars
The Last Bounty Hunter
You can have all of these games in one machine! Simply change the disc, turn the dial, and you're playing a new game!
(* Laserdiscs not included *)
-
If you are a collector of American Laser Games, then you probably have one of the games listed above. You may also have a few (maybe all) of the game discs and RAM/ROM boards for the other games. Every time you want to change your machine over to a different title, you are forced to open up the protective metal cage housing the Amiga control board, and swap out the RAM/ROM game board. This process is inconvenient and causes wear on the electrical connector.
Once you install the LaserCon ALG MultiROM, all of these ROM-sets are available.
Changing the game is easy...
Install the laserdisc,
Set the dial,
Enjoy the game!
Kit includes: A.L.G. MultiROM card, control dial and easy instructions.
Price: $130 plus $5 S&H within the U.S.A.
The ALG MultiROM is a "Build to Order" item.
If you would like to get one, please email me.
For International Shipping, Multiple Orders, Payment via Money Order, Technical Help or Questions...
Send email to shaun@wood1st.com
-
Support Documents:
ALG MultiROM Set-up Instructions (pdf)